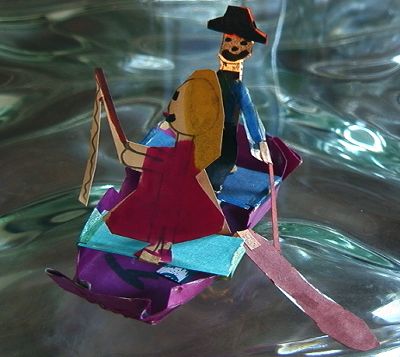 Merrily, Merrily Down the Stream...
My First Multimedia Project?
Drawing pictures was never enough for me as a kid--sure, I wrote stories about Bertram the Blue Spruce and made up songs about Daffy Duck, but what I really liked was making dioramas out of shoeboxes and constructing three-dimensional objects that were part of a story. (Besides, the smell of rubber cement and Magic Markers was pretty intense.)
When I was seven, I made these two people in a boat for Dad--he saved the paper construction, but the story and song that accompanied this little multimedia production have been, sadly, lost.
"(ahem)...We see here even in this early work an implied predilection toward travel, and the artist's use of color indicates a precocious ability...." (Good thing I went on to explore other talents, eh?)


©TLC Productions 1999. All rights reserved.
Unauthorized use or reposting of photos or graphics prohibited.