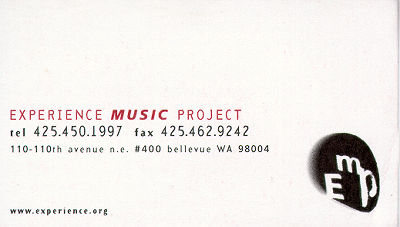 Museum interactive exhibit design mock-ups and treatments:
Experience Music Project, Seattle, Washington

An employee nondisclosure agreement prevents me from providing full details about my work as an exhibit intern at Paul Allen's Experience Music Project in Seattle until after the museum is officially open to the public. (At last report, the opening date is scheduled for 2001.)
Briefly, my contributions encompassed researching Soundlab exhibits on hip-hop (Match the Beat prototype), sampling, mixing and equalization basics, making a record, and the theremin.
I provided exhibit treatments for Match the Beat and Sampling, indicating suggested text, environmental and audio/video design possibilities. I authored draft label copy for the Match the Beat interactive and surrounding labels contextualizing the exhibit, and provided a design mock-up for Match the Beat, including graphics and color treatment that suggested a particular "feel" and tone.


©TLC Productions 1999. All rights reserved.
Unauthorized use or reposting of photos or graphics prohibited.